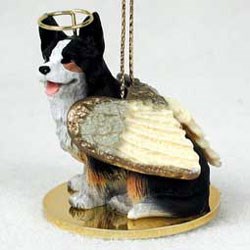 Corgi Christmas Ornament Angel
You'll want an angelic Corgi Ornament whether your lovable scamp is a cute and cuddly or an incorrigible canine. With its dainty wings and halo, the Cardigan Welsh Corgi Ornament makes an adorable addition to any holiday display, whether it's on your tree or grouped with other great pieces from our collection. The Cardigan Welsh Corgi Ornaments stand two inches in height and are made of durable stone resin. These Christmas Ornaments make great Secret Santa gifts for your dog-loving partner at work, too.
Add a Product Review
Average rating is 4.7
By:
Randy Bedard
Barnstable Town, MA
Fast delivery, and the Corgi ornament was a great gift that we gave to a Corgi owner...they loved it!
By:
Susie
San Diego, CA
Very detailed and well made, adorable! Thank you, such a unique item!
By:
Linda C Fout
Jackson Center, Ohio
Just fantastic