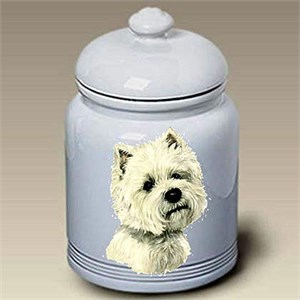 West Highland Terrier Treat Jar
Now whose treats are you going to keep in our West Highland Terrier Treat Jar? The endearing likeness on our white porcelain Westie Treat Jar may sway you. With a fine art design created by internationally acclaimed artist Linda Pickens, our 6 x 10 West Highland Terrier Treat Jars give your pup a place on the kitchen counter. This strong-willed, playful, affectionate breed demands and deserves your attention throughout the day. Your treat jar will never stay full.

Because of the size and weight of this item, special shipping conditions may apply.

1. Treat Jars are made upon order and therefore are not available for Priority shipment and will be shipped UPS Ground. Delivery is typically 10-14 days.
2. We are only able to ship this item to the Lower U.S. and Canada.
3. Canadian orders will be shipped US Mail First Class and will have a $15.00 international shipping surcharge.