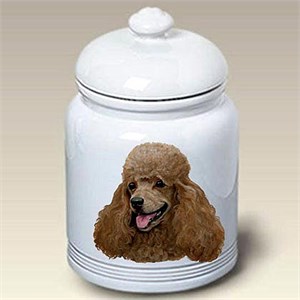 Apricot Poodle Treat Jar
Featuring an amazing 80s hairdo that will always be popular on these cute and cuddly critters, our Apricot Poodle Treat Jars are one item you'll be happy to catch your hand in. Each elegant, white porcelain Apricot Poodle Treat Jar features an airtight, rubber-sealed lid that will keep your goodies fresh, long after their prepared date. An elegant gift come the holiday season, our Apricot Poodle Treat Jar will steal the day and become a lasting remembrance of how much you care. Measuring approximately 10 x 6 inches, this item also makes a great Treat Jar for your canine.

Because of the size and weight of this item, special shipping conditions may apply.

1. Treat Jars are made upon order and therefore are not available for Priority shipment and will be shipped UPS Ground. Delivery is typically 10-14 days.
2. We are only able to ship this item to the Lower U.S. and Canada.
3. Canadian orders will be shipped US Mail First Class and will have a $15.00 international shipping surcharge.